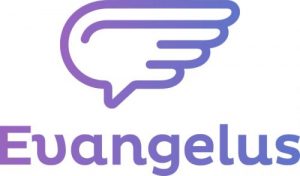 The Easiest Way to
Message More People
Connect to Your Parish Via
EMAIL TEXT APP SOCIAL WEB
Receive parish news through email, text, app, social media,
and the website with the only Catholic communication tool
that makes it easy: Evangelus
Parish & Community Updates 9/21
UPCOMING MASS CANCELLATIONS
Saturday, September 23: No 9:00 AM Mass
Monday, September 25 – Thursday, September 28:
No Masses or Confession due to Fall Priests Convocation
Father Dominic and Father Danny will be participating in the annual Fall Convocation with Bishop Walkowiak and the other priests in the Diocese next week! While they are away, let's support them with our prayers! 
O God, Father of all Mercies, Provider of a bountiful Harvest, send Your Graces upon those You have called to gather the fruits of Your labor; preserve and strengthen them in their lifelong service of you.
Open the hearts of Your children that they may discern Your Holy Will; inspire in them a love and desire to surrender themselves to serving others in the name of Your son, Jesus Christ. Teach all Your faithful to follow their respective paths in life guided by Your Divine Word and Truth.
Through the intercession of the Most Blessed Virgin Mary, all the Angels, and Saints, humbly hear our prayers and grant Your Church's needs, through Christ, our Lord. Amen.
MINISTRY SPOTLIGHT:
THE WOMEN OF OUR LADY
The Women of Our Lady Ministry serves as a place for women of all ages to come together and Be Still with each other and our God.
The ladies that attend the Tuesday Bible Study are from all walks of life from new mothers (little ones are always welcome!) to grandmothers. The group comes together to reflect on God's love and His desire for each of us to let Him love through us. Through Sacred Scripture and Catholic Studies, the group reflects on practical applications inside of their personal and family life. The group strives to support and encourage each other as we walk with God on our journey. We share our beliefs and experiences, build community and fellowship together, all while strengthening our Catholic faith. 
We invited women of all ages and life stages to Be Still and join us on Tuesdays at 9:00 AM at Kateri Lodge or Tuesdays at 8:00 PM beginning in October.
Our fall study, Living Joy from Chris Stefanick, begins October 3! Our winter study, Dwell from Blessed is She, begins January 16. 
Be sure to see us after Masses on Sunday at Coffee and Donuts for more information! 
Peace be with you!
Christina Achatz
CATHOLIC CHARITIES
PAINT A BOWL
PLEASE REGISTER BY SEPTEMBER 24!
KNIGHTS OF COLUMBUS
GOURMET CARAMEL APPLE SALE
It's back! We have been blessed to have the opportunity to raise money for the Knights of Columbus charity fund! These delicious caramel apples are made with care using an original Mackinac Island Caramel recipe courtesy of Marshall's Fudge and Candy Company in Mackinaw City. Granny Smith Apples are dipped in gourmet caramel and covered in three different toppings! Yum!
Order your apples after Masses on September 30 and October 1 in the narthex!
PRE ORDER SALES
Plain Caramel: $7.00 ea. 
One Deluxe Topping (Pecans, Cashews, or M&M's): $8.00 ea.
Two Deluxe Toppings (Pecans, Cashews, or M&M's): $9.00 ea.
Please text orders to Dave Lawrence at 616-644-9990.
Payment of cash/check due at pick up after Masses on October 7 and 8.
You are receiving this message because you are a member Our Lady of Consolation Parish & School. If you do not wish to receive these messages please email us at