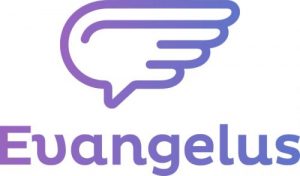 The Easiest Way to
Message More People
Connect to Your Parish Via
EMAIL TEXT APP SOCIAL WEB
Receive parish news through email, text, app, social media,
and the website with the only Catholic communication tool
that makes it easy: Evangelus
Thirty-Third Week in Ordinary Time
Thirty-Third Week in Ordinary Time

Scroll down to check out what's going on around the parish this week!
Second Collection This Weekend

Saturday, 11/20 – Sunday, 11/21

From the Diocese of Grand Rapids: This weekend, our special collection supports the Catholic Campaign for Human Development. Twenty-five percent of funds we collect will stay here in the diocese for antipoverty projects.
Thanksgiving Week Schedule

Monday, 11/22: 12:00PM*

Tuesday, 11/23: 9:00AM**

Wednesday, 11/24: 9:00AM

Thursday, 11/25: 9:00AM

Friday, 11/26: 9:00AM
*All Monday Masses will begin at 12:00PM
**This week's Tuesday Mass will be at 9:00AM. All are invited to join us. The usual 7:00PM Mass is cancelled.
In celebration of the Thanksgiving holiday, all parish offices will be closed Thursday and Friday November 25-26.
North Kent Connect: Double Match Days

Now through Thanksgiving (Thurs., Nov. 25) your purchase of a $10 Meijer Simply Give card at the Rockford Meijer Store will result in $30 to North Kent Connect to fill our client pantry with fresh vegetables, fruits, meats, dairy products, infant formula, and diapers.
OLC Pick-up: December 11-12

Back by popular demand- the Knights of Columbus Holiday Pies!
Homemade apple and blueberry flavors!

Pies are freshly handmade by Knights at St. Isidore!

Taste great and make delicious gifts!

Bake now or freeze for later!

Help raise funds for the OLC family!

Only $11 each!
Proceeds benefit Our Lady of Consolation Knights of Columbus Charity Fund. Physical order forms are available at the welcome table in the narthex.
Monday, December 6 | 4:00PM-6:00PM

Join us at the Corner Bar for OLC's Faith Formation Fundraiser! Use the voucher at the top for 15% of your bill to profit Faith Formation Program.
Fr. Loc is taking on the Hot Dog Challenge! Please make your initial pledge online and submit your pledge payment after the event!
Click the button below to make your online pledge and download the voucher for Corner Bar!!.
Our Lady of Consolation's annual Advent By Candlelight is almost here!
We invite all women of the parish to join us for an evening of prayer, dinner, and fellowship.
Want to host a table? Sign-up NOW!
Tables can hold 6-12 guests. Hurry- spots are filling quickly!
If you would like to reserve individual seat to be placed at a table, please email Kristina Poirier at kpoirier@olcparish.net
Reservations are due by Friday, November 19
Solemnity of Christ the King

The Church celebrates the Solemnity of Christ the King on November 21, 2021. Pope Pius XI instituted this feast in 1925 with his encyclical Quas primas ("In the first") to respond to growing secularism and atheism.  He recognized that attempting to "thrust Jesus Christ and his holy law" out of public life would result in continuing discord among people and nations. This solemnity reminds us that while governments come and go, Christ reigns as King forever. 
Join us for a Novena from November 12-20, the nine days preceding the Solemnity. A daily message will be sent out with the Novena prayers for that day. Let us offer our prayers to Christ the King for the freedom of the Church. 
Upcoming Ministry Meetings

Knights of Columbus Member Meeting

Wednesday, November 17 | 7:00PM | Holy Family Center
Thursday, November 18 | 6:00AM | Holy Family Center
Friday, November 19 | 10:00AM | Guadalupe Room
The Friday Morning Bible Study Ladies invite everyone to join us and our guest speaker on Friday, November 19, for a talk on Divine Revelation by Deacon Jim Hessler! All are welcome!  If you can't make it in person, click on the Google Meet link and listen in:    https://meet.google.com/qmm-ggme-dfn
Women of Our Lady Book Study

Tuesday, Nov 23 | 8:45AM & 8:00PM | Kateri Lodge
& Follow Us on Social Media!