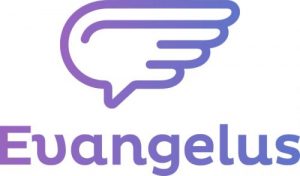 The Easiest Way to
Message More People
Connect to Your Parish Via
EMAIL TEXT APP SOCIAL WEB
Receive parish news through email, text, app, social media,
and the website with the only Catholic communication tool
that makes it easy: Evangelus
This Weekend in Our Parish
Priesthood Sunday seeks to reaffirm the priesthood of Jesus Christ and its central place in the life of the Church. This day also specifically honors priests, without whom the Holy Sacraments could not be conferred, for a single day out of the 365 days of the year during which they tirelessly serve their parishes. Celebrate and thank a priest today!
Prayer:
Lord Jesus Christ, eternal High Priest, you offered yourself to the Father on the altar of the cross and through the outpouring of the Holy Spirit gave your priestly people a share in your redeeming sacrifice. Hear our prayer for the sanctification of our priests. Grant that all who are ordained to the ministerial
priesthood may be ever more conformed to you, the Divine Master. May they preach the Gospel with pure heart and clear conscience. Let them be shepherds according to your own heart, single-minded in service to you and to the Church, and shining examples of a holy, simple, and joyful life. Through the prayers of the Blessed Virgin Mary, your Mother and ours, draw all priests and the flocks entrusted to their care to the fullness of eternal life where you live and reign with the Father and the Holy Spirit, one God, for ever and ever. Amen.
Youth Ministry & Confirmation Kick Off

Sunday, September 26 | Kateri Lodge

High School (grades 9-12) | 4:00PM-5:30PM
Middle School (grades 6-7) | 6:00PM-7:30PM
The main event at these kick-offs will be a water balloon fight on the baseball field. We have almost 3000 water balloons & Father Dominic will be present (with a surprise or two). Jimmy John's will be providing food for our teens and we will have plenty of snacks and drinks! Our teens will have a great time getting to know each other and having fun!
The Annual Mum Sale this weekend has been canceled due to a supplier issue. Please stay tuned for more information. Thank you for understanding.
Reminder: Priest Convocation 9/27-9/30

No Daily Mass or Reconciliation

Daily Masses and Reconciliation are cancelled from Monday, September 27 through Thursday, September 30. Father Dom and Father Loc, along with all other Diocese Priests, will be attending this year's convocation in Traverse City. Convocation is a yearly retreat that the Bishop holds for the priests in the Diocese of Grand Rapids. Please note that our priests will be unavailable these days for Mass, Reconciliation, and contact in general. Masses at OLC will resume as usual on Friday, October 1st at 9:00AM.
If you would like to attend Daily Mass, Saint Alphonsus Parish in Grand Rapids invites the OLC family to join them. Redemptorist Priests, who do not attend the convocation, will be having Daily Mass Monday-Friday at 7:00AM & 9:00AM. Please visit their website for more information.
Thank you for your understanding! Please keep Father Dom, Father Loc, and all priests attending the 2021 Convocation in your prayers. 
& Follow us on Social Media!