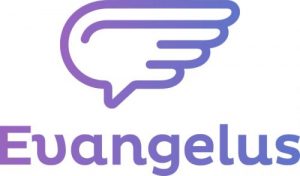 The Easiest Way to
Message More People
Connect to Your Parish Via
EMAIL TEXT APP SOCIAL WEB
Receive parish news through email, text, app, social media,
and the website with the only Catholic communication tool
that makes it easy: Evangelus
Parish & Community Updates
This weekend and next weekend (May 14/15 & 21/22), the Sacrament of 1st Holy Communion will be celebrated at the 5:00 PM & 11:00 AM Masses.
Please refrain from sitting in the front pews.
There will be multiple rows in the front of the Church that are reserved for these 1st Communicants and their immediate families. Thank you for your respect and understanding.
All are inviting to join us for the parish-wide May Crowning on Wednesday, May 25 from 6:00-8:00 PM. This will take place outdoors, please bring a lawn chair for your comfort. Refreshments will be served following the Crowning.

May Crowning for the OLC School will take place following the 9:00 AM Mass on Thursday, May 26. All are invited to join.
Parish-wide Consecration to Jesus through Mary
As part of our 50 year celebration as a parish, we are conducting a parish-wide Marian Consecration.
Begins on May 19
Exposition & Benediction from 5:00-8:00 PM
Consecration Day is June 20
The Feast of Our Lady of Consolation
No sign up required. Books are available to pick up on the resource table in the Narthex.
Books were provided through a grant from the OLCEF. 
More information coming tomorrow!
Your generous support funds essential diocesan ministries that support our seminarians, provide training for teachers and faith formation staff, and brings assistance to our brother and sisters in need.
To date, 312 families, representing 24% of our parish households, have pledged $199,504 or 83% of our parish goal. We're only $39,699 from our goal! Please keep in mind that any amount raised over our goal is returned to the parish.
If we do not reach our goal, any unpaid amount will come out of OLC's operating budget.Please continue to pray for the success of this important effort.
Exposition & Benediction
Friday, May 13 | 6:30-7:30 PM

Fr. Dom will be exposing the Eucharist for Exposition and Benediction for an end to abortion and for mounting tensions.
As May 13 is the feast of Our Lady of Fatima, relics from the apparitions of Fatima will be available in the Church for veneration.
Adult Formation Opportunity

You are receiving this message because you are a member Our Lady of Consolation Parish & School. If you do not wish to receive these messages please email us at