Welcome to Faith Formation Registration!
We are excited to grow in faith with you and your family this year. We look forward to seeing you soon!
May Our Lord and His Mother bless you and your family!
Scroll down to see all available Class Times.
To register your children, complete the 3 steps below: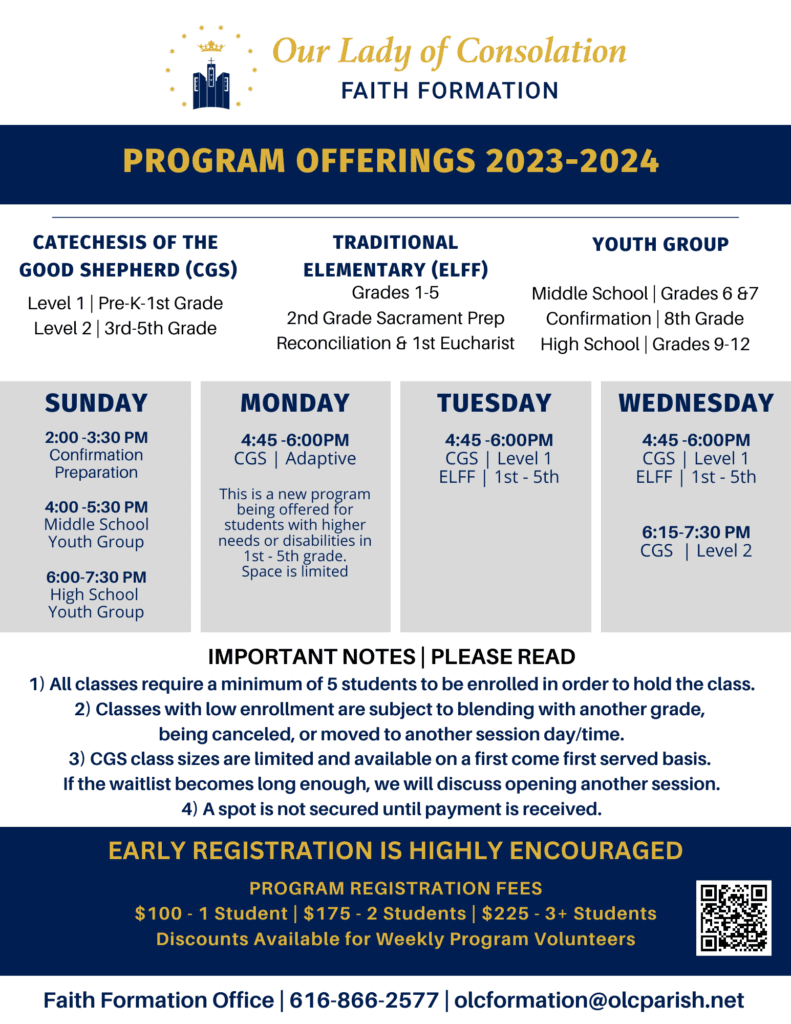 ---
SACRAMENT NOTE: IF YOUR CHILD IS PREPARING FOR 1ST RECONCILIATION & COMMUNION,
YOU MUST ENROLL IN THE ELFF 2ND GRADE CLASS.
IMPORTANT: IF YOU ARE NOT A REGISTERED OLC PARISHIONER, PLEASE CREATE A PARISH ACCOUNT PRIOR TO REGISTERING YOUR CHILD SO YOUR INFORMATION IS ACCURATE IN OUR DATA SYSTEM
The Faith Formation team is seeking willing hearts to serve in a variety of roles this year.
Please click the volunteer opportunities link below for more information.
---
Effective August 1, a $25 late registration fee has been applied. This is reflected in the fees below:
Regular Fees:
1 Student: $100
2 Students: $175
3+ Students: $225
Weekly Program Volunteer Fees:
1 Student: $75
2 Students: $125
3+ Students: $150
If you have any questions or need assistance, please contact the Faith Formation Office at 616-866-2577.