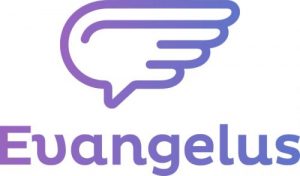 The Easiest Way to
Message More People
Connect to Your Parish Via
EMAIL TEXT APP SOCIAL WEB
Receive parish news through email, text, app, social media,
and the website with the only Catholic communication tool
that makes it easy: Evangelus
Parish & Community Updates 10/19
MINISTRY SPOTLIGHT: 
ART & ENVIRONMENT, ST. FIACRE'S GARDEN MINISTRY, & SACRISTANS
These three ministries are organized and led by our very dedicated Jeanne Hawkins. Although the duties of these ministries may seem different, their ultimate goal is to bring you to a place of beauty, drawing us deeper into the Holy Mass & the Sacraments and recognizing God's gift of creation. 
Art & Environment
These volunteers gather just before any change in the liturgical calendar to transition the church and narthex to the next season's colors and adornments.
St. Fiacre's Garden Ministry
Named for the patron Saint of gardeners and newest of these ministries, these volunteers work in teams to tend the different flower beds around the church campus. 
Sacristans 
These volunteers serve by preparing everything needed for Masses and other liturgical celebrations and work directly with our pastor, Father Dominic. 
If you feel that Our Lord is calling you to serve in any of these ministries, please see the host volunteers during Coffee and Donuts after thus Sunday's Masses or contact Jeanne Hawkins directly at jeannehawkins@charter.net. 
SIGN UP FOR 40 DAYS FOR LIFE AFTER MASSES THIS WEEKEND
ALL SAINTS/ALL SOULS DAY MASSES
NOVEMBER 1 & 2
Please join us for Mass on All Saints and All Souls Day!
On All Saints Day, a great number of first and second class relics of the Saints will be available for veneration at both Masses. Relics include the True Cross, Veronica's Veil, the Veil of Our Lady, the Cloak of St. Joseph, St. Jude, St. Therese, St. Francis of Assisi, St. Padre Pio, St. John Paul II, St. Teresa of Calcutta, & many more! 
As a reminder, All Saints Day is a Holy Day of Obligation. 
PARENTING SERIES: 
THE REAL PRESENCE IN THE EUCHARIST WITH FATHER DOMINIC
THURSDAY, NOVEMBER 16
ADVENT BY CANDLELIGHT 
FRIDAY, DECEMBER 1
North Kent Connect is still looking for the following donations:
Unscented Laundry Soap
Unscented Baby Wipes
Unscented Baby Wash
Crib Sheets
Baby Bath Towels with Hoods
White Onesies (Long or Short Sleeve, Newborn – 9 Months)
Donations can be brought to the Parish Office during normal business hours. 
You are receiving this message because you are a member Our Lady of Consolation Parish & School. If you do not wish to receive these messages please email us at